Get BornHack news as a RSS feed
---
For financial reasons we have been unable to afford a hot tub for the wellness area this year. Yesterday some participants came together and funded the delivery of a hot tub for the event so we have one after all!
We added a Hot Tub Ticket product to the webshop. They are 100 HAX and you can buy as many as you feel is enough to pay for your use of the hot tub. It will be used to fund firewood and any excess HAX will go to BornHack.
The water is replaced every 1-2 days so the hacker soup doesn't become too rich.
Please be aware you may encounter naked hackers around the hot tub area.
Happy hot tubbing!
---
This year we have a art competition running throughout the week at BornHack. The competition is organised by a sponsor and the three first places will win a ticket for BornHack 2024.
The theme for the art competition is The Future Companion and it is about showing your idea of what a companion could look like in the future. Is it a new kind of Tamagotchi? An avatar in the Metaverse? A robot dog? A clone of your grandmother? A mockingbird drone? An LLM chatbot? Something completely new?
You can use any form of media and technology including sculpture, digital art, interactive installations, and more.
Think big, be bold, and let your creativity unfold within the framework "The Future Companion".
Submit your name or team name to: Caroline Sofie Axelsson · Life with Artificials · csa@mindfuture.com (back from holiday the 6. Aug.) and the winners will be announced on Tuesday, the 8th of August in the Speakers Tent.
---
Due to our current economic situation, where we have fewer sponsors than usual, we unfortunately have to charge a small fee for our badges for BornHack this year.
The badge prices are as follows:
With a badge voucher (included in a one-week ticket): 100 HAX.
Without a badge voucher: 150 HAX.
Some of the old BornHack badges are also available for sale in the info desk!
---
We are live streaming some of the events from our program. The stream is available via a Tor Onion Service at http://xgsobitduxv7gcc5qlveigwiku7qcjn5exf4ayusw4mwq7kfrapmrjyd.onion/ and via legacy IP (both v6 and v4) at https://live.bornhack.dk/
---
As something new this year, we want to have a short meeting each day for all available volunteers who aren't busy with either team tasks or enjoying BornHack!
We meet at 14:00 daily in the star tent in front of the infodesk. Members of Orga will be present, and we'll go over issues that we ought to fix on-site. Once we are done, we will do a quick pass over some of our areas to ensure they are nice and tidy!
---
Good news, everyone! There will be a shuttle bus after all. Huge thanks to Dennis, who put us in touch with the sponsor Roskilde Auto & Skadecenter!
To book the shuttle for a pickup or dropoff at the Gelsted station, please e-mail shuttle@bornhack.org and state you arrival or departure time and how many you are. Please try to book at least 24 hours ahead of time, otherwise we might not see your e-mail in time.
---
BornHack 2023 starts in a little over one week and preparations are underway. We wanted to share an update on the progress and some changes we've been forced to make. We have also included a link to an example of a packing list of what to bring to an event like BornHack.
We are very excited about the coming weeks and we are looking forward to seeing everyone!
No Shuttle Bus
We have been unable to find a shuttle bus sponsor for 2023, which sadly means we cannot offer a shuttle service like the previous years. We realise this is an inconvenience for people arriving by train. Please read the Shuttle Bus section on the Info page for information about alternatives.
If someone in your network has a car we can use for shuttle service please contact shuttle@bornhack.org asap.
Caravan Area Move
The map has been updated and the Caravan Camping area has been moved to the other side of the road: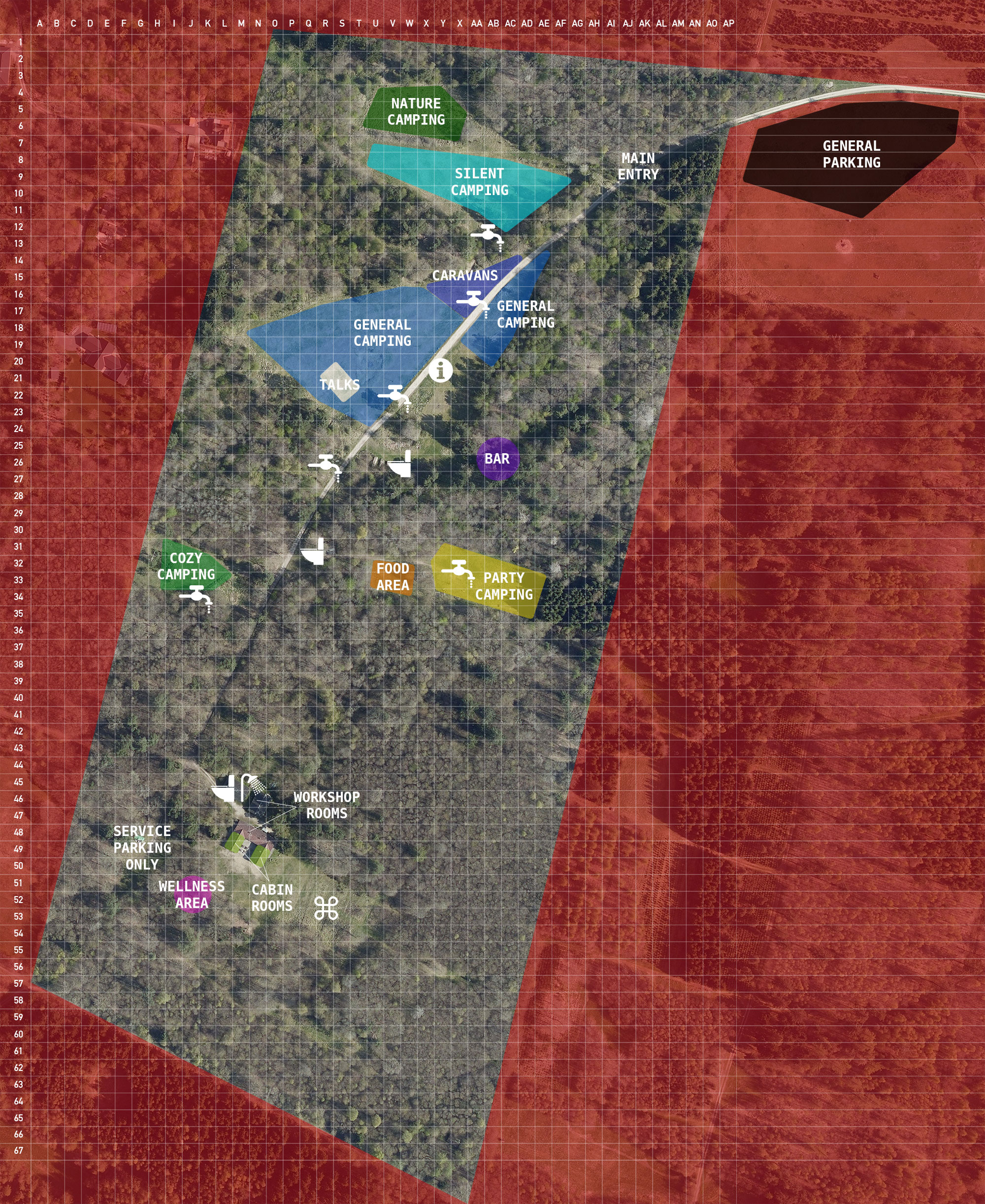 Buildup
Buildup officially starts on Saturday the 29th. If you want to arrive earlier please coordinate with an orga person before you arrive.
Villages
Please remember to register your village on the Villages page.
DECT
It is looking likely that we will have a functional DECT network this year. Please remember to bring a DECT handset and register your number in the phonebook.
What To Bring
If you've never attended a hacker camp before you could consider looking at someone else's packing list for inspiration on what to bring. There is an example on Github.
See you on Hylkedam!
---
The 2023 edition of our merchandise is available in the shop now.
Please get your orders in as quickly as possible so that we will have a chance to get the suitable sizes in time. All merchandise orders will be delivered at BornHack, but will NOT be produced until fully paid. If you decide to pay in cash, please do so immediately after arriving at the event.
Unfortunately we cannot guarantee that all orders will be fulfilled, as some sizes have been problematic to get in the last few years, but we will do our best and the earlier you place your order, the better the chance. We will of couse refund if unable to deliver.
---
The BornHack 2023 Call for Participation is open!
We are looking for talented, humorous, inspiring, and/or provocative speakers to host talks, workshops, and other events to make the official program at BornHack 2023 live up to the high expectations set by previous years. If you have something interesting to say, we want to hear it! Read our Call for Participation to learn more and submit your content today.
We prefer submissions as early as possible to have more time to plan the final program and coordinate with speakers. Please submit it sooner rather than later.
---
We are having the BornHack 2023 kickoff at our venue, Hylkedam on 18-20/5. We hope that a lot of our volunteers will drop by to help shape the 2023 event. It will be a good opportunity for new volunteers to select which teams to participate on, and help get those teams started.
The main day will be on 18th, where people are showing up during the morning for meet'n'greet, then we'll have lunch and begin the kickoff. The 19th&20th is for planning the years team activities, and hanging out.
We plan on leaving the venue on 21st in the morning.
Tentative plan:
Thursday the 18th of May:
10-12 Arrive for meet'n'greet
12-13 Lunch
13-18 Kickoff
18-20 Dinner
20- Hanging out
Friday the 19th of May:
10-12 Team breakout 1
12-13 Lunch
13-15 Team breakout 2
15-16 Break
16-18 Team breakout 3
18-20 Dinner
20- Hanging out
Saturday the 20th of May:
Sunday the 21st of May:
10-12 Cleaning and leaving
You can participate only on 18/5, or you can grab a bed in one of the cabins (or bring a tent) and stay for a couple of nights. Expect the whole thing to be casual, but in particular the 19th and 20th will have plenty of social and relaxation time.
Participating in the kickoff is free, but it is appreciated if you can chip in around 100,- DKK/HAX (around 14€) for food per day (excluding Thursday). It will also be possible to join the kickoff virtually if you are unable to participate in person.
See you! Or follow the live-stream at http://xgsobitduxv7gcc5qlveigwiku7qcjn5exf4ayusw4mwq7kfrapmrjyd.onion/ or https://live.bornhack.dk/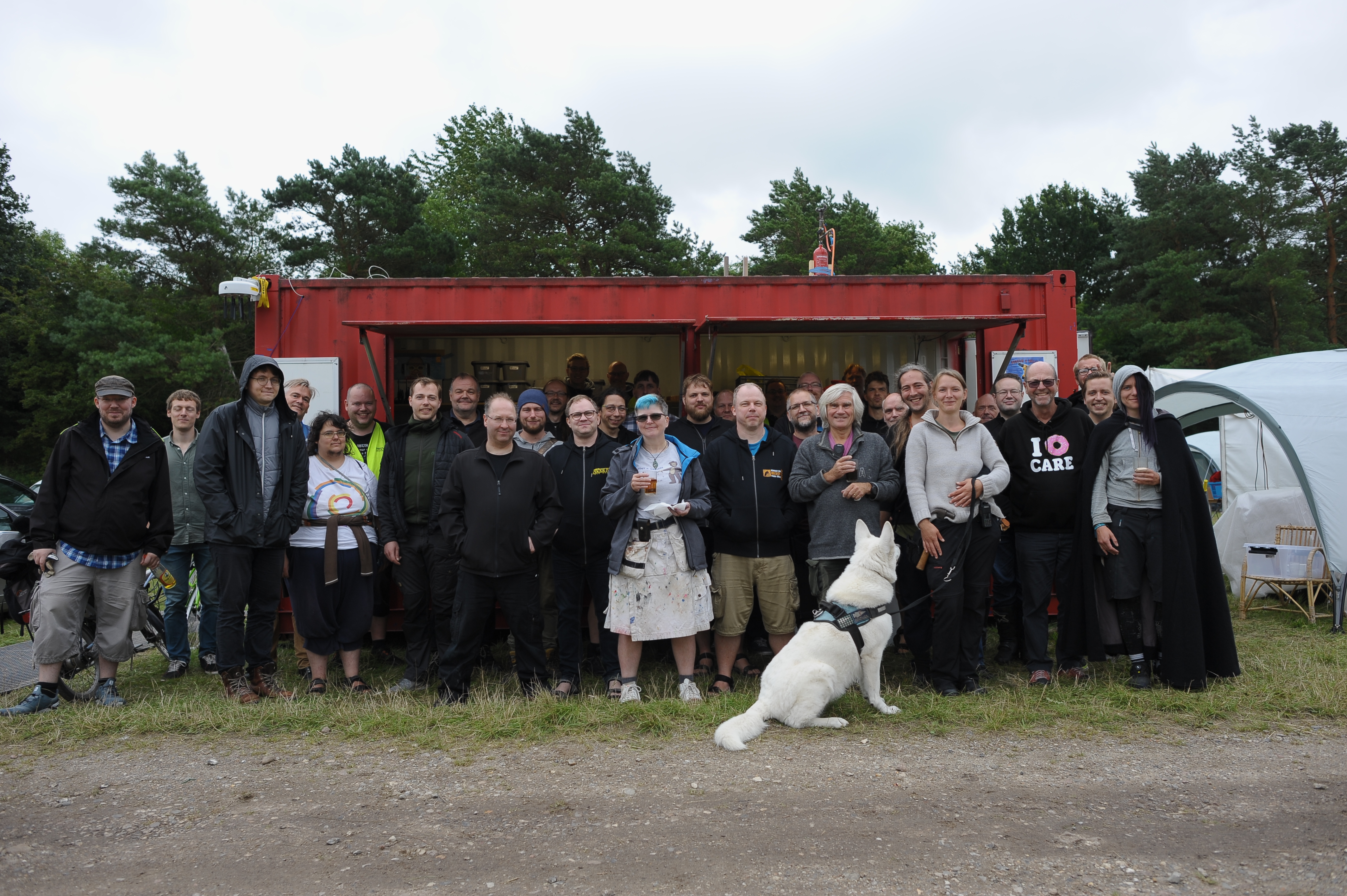 ---
We are happy to announce that the BornHack 2023 tickets are now available in our webshop. The usual ticket types are available: full week tickets for adults and children, as well as caravan tickets, car park tickets, cabins, and fridge tickets. One-day tickets, tents and other village gear are not yet available.
Since the first BornHack in 2016 we have kept prices the same (1200 DKK for a standard ticket), but increasing costs have forced us to increase the ticket prices around 10% this year. A standard ticket is now 1337 DKK. If you are able to pay more than the standard 1337 DKK for a ticket then please do so, it is highly appreciated.
We are planning a BornHack 2023 kickoff at Hylkedam from the 17th to the 21st of May. More info to come, but volunteers can mark the dates in the calendar!

---
Our dear friend Jesper "graffen" Hess sadly passed away on Friday, the 14th of October. He was traveling in Berlin with his boyfriend Magnus when Jesper suffered a sudden heartattack. Our thoughts are with Magnus, Jesper's family and friends.
Jesper was a BornHack organiser. His personality, positive outlook and abilities will be missed dearly in the organisation. Nothing will fill the void left by his passing, but we are grateful for the years we got to know him.
Jesper's kind-hearted nature, sense of order, humor, and generally pleasant personality have significantly impacted the BornHack organisation. Jesper could channel frustration into positive energy like no other. When we repeatedly kept making mistakes on the logistics between ourselves and a larger delivery vendor, Jesper took over the Logistics Team, and the issues ceased to exist.
As part of BornHack's Code of Conduct team, Jesper placed himself in the epicenter of our community goals of inclusion. When conflicts arose he worked with community members and helped to resolve them in a positive way. The last thing Jesper said on the BornHack Orga Signal group the day before his trip to Berlin is an example of his constant community leadership efforts. He was telling us about a plan he has made for BornHack to collaborate with an NGO which works on making events more accessible for people with hidden disabilities. We will do our best to continue these efforts without him because we know this work was important to Jesper.
Jesper also stepped up to lead the Info desk Team when he saw a need. He was passionate about the Wellness Team where he organised massages for sore volunteers, and made sure our wilderness hottub was operational by cleaning (and thoroughly testing!) it. The Radio Team was a one-man operation using Jesper's radios, frequencies, repeater, and know-how.
As good as he was at it, Jesper never actually intended to become part of the BornHack organiser team, it was all a happy accident. He purchased a BornHack hoodie in 2017 which was mistakenly labeled "Organiser" on the back, so we suggested he join Orga, and he did. Jesper was always up for fun and quirky ideas. Joining the BornHack Orga on a whim, thus sparking countless long and wonderful friendships and maturing the organisation in the process, is a fitting analogy for his personality.
Outside of BornHack, Jesper has also contributed significantly to Denmark's IT security, privacy, and hacking communities. He ran numerous PGP key-signing events back in the day, and he helped start the highly successful Cryptohagen movement. He also helped build and run the Danish organisation data.coop, which works on local, decentralized hosting of key internet services for its members. He was also a HAM operator (callsign OZ9DLP) active in the Danish HAM community.
During BornHack 2023 we will find ways to remember Jesper, who was such an instrumental part of the BornHack spirit and community. We hope people will do what they do best and find creative ways of remembering Jesper.
Jesper was the light and life of any situation. His smile, kindness, positive spirit and constructive approach to everything meant he was universally loved. His legacy will live on forever.
The memorial service will be Friday, October 28th 13:00 at Nordre Kapel, Vestre Kirkegård, Copenhagen. Please also read Magnus' own words on magnusklink.com/jesper.
---
BornHack 2022 happened and it was amazing. A few hundred people coming together to develop, use, explore, criticize, and celebrate technology is quite a thing to be a part of! The talks were fantastic, the workshops were productive, the recreational events were fun. The bar was well-stocked and full of lovely people. The weather was mostly great. The Food Area had constant activity with people cooking, eating, or waiting in line for the food truck. The whole venue was beautifully lit in colourful and creative ways. Powerful lasers and flamethrowers provided impressive and popular evening shows.
There were a lot of villages and camps this year. They were big, and fun, and full of the kind of sights and sounds you only get at a hacker camp. Walking around the venue and taking it all in is incredible. It means so much to the event that camps and villages are so diverse and overflowing with weird and wonderful experiences. Please keep it up!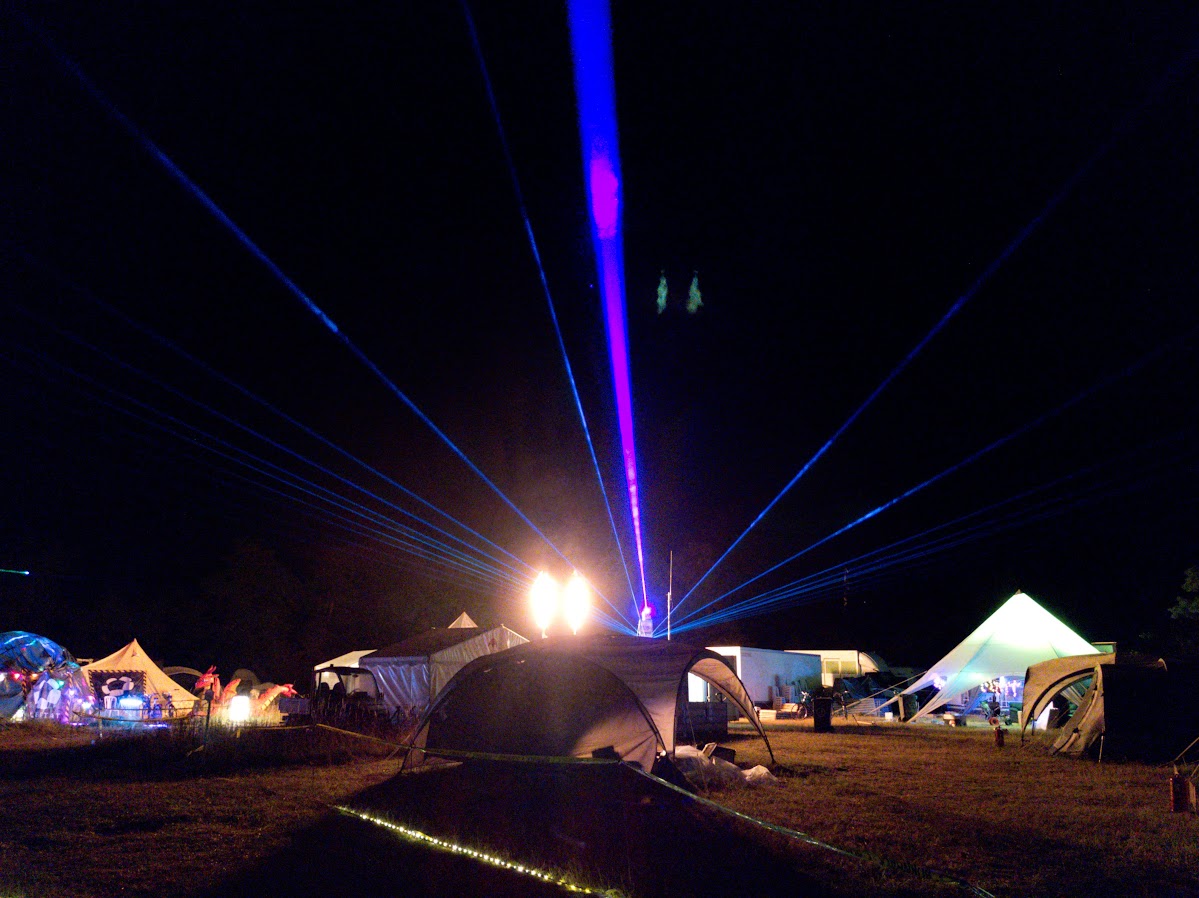 The best-kept secret about BornHack is that it is actually a two week event. One week is the actual event, the other is buildup and teardown. It is a lot of fun and it can be very rewarding to be a part of. The first buildup crew arrived at the venue almost a week before the opening day. The last teardown crew left the venue 4 days after the closing day. Teardown was delayed about 24 hours due to massive heat making the work slow and difficult. But all things considered buildup and teardown went really well. Thank you to everyone who helped out!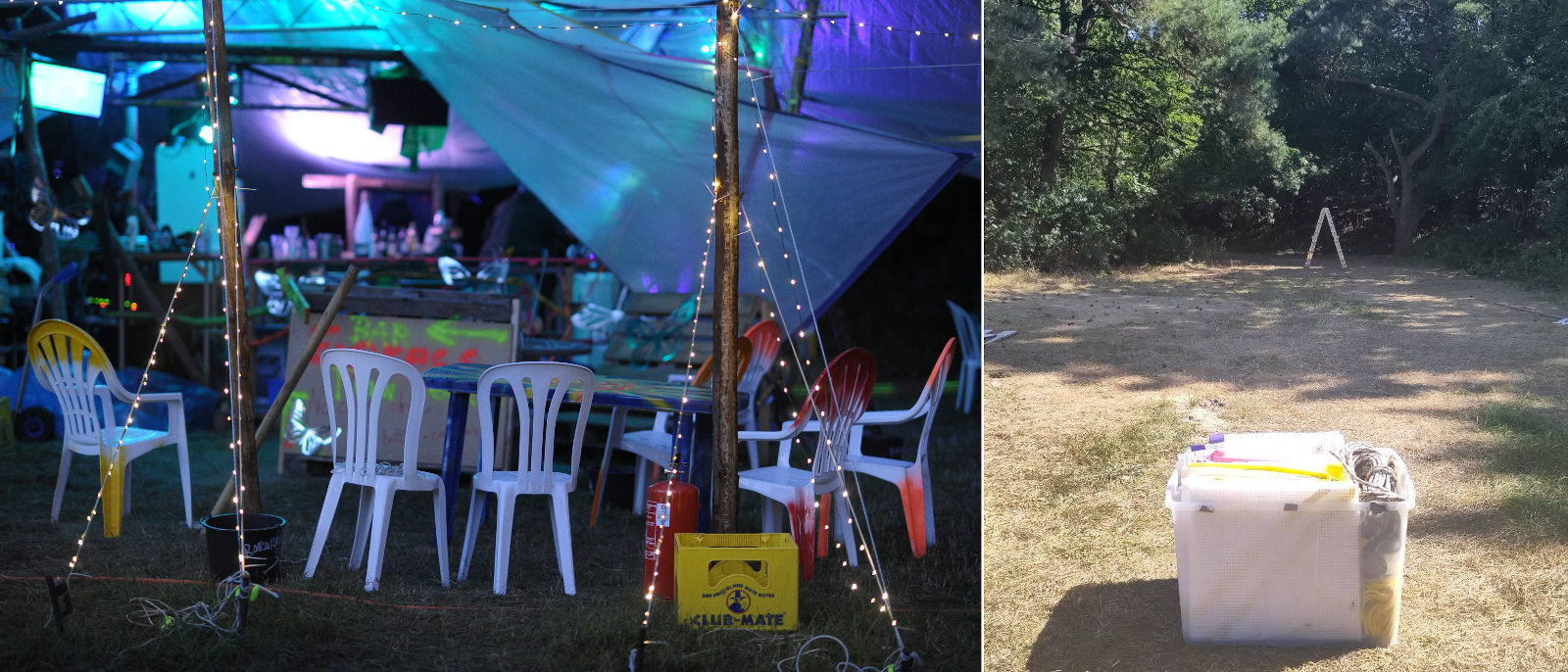 The bar during Bornhack and a few days before teardown ended. What a transformation :-D
We had a brand new video setup this year for streaming and recording talks. The video team did an amazing job of adapting to using the new hardware and software, and it worked really well! Remote viewers could stream talks as well as the very popular ant farm stream live, and of course everything was recorded. After the event we had to do manual post-processing and upload of videos to C3VOC. It took a while to get there (and we will have this automated for 2023) but it is with great pleasure we can finally announce that the BornHack 2022 videos are available kindly hosted by media.ccc.de.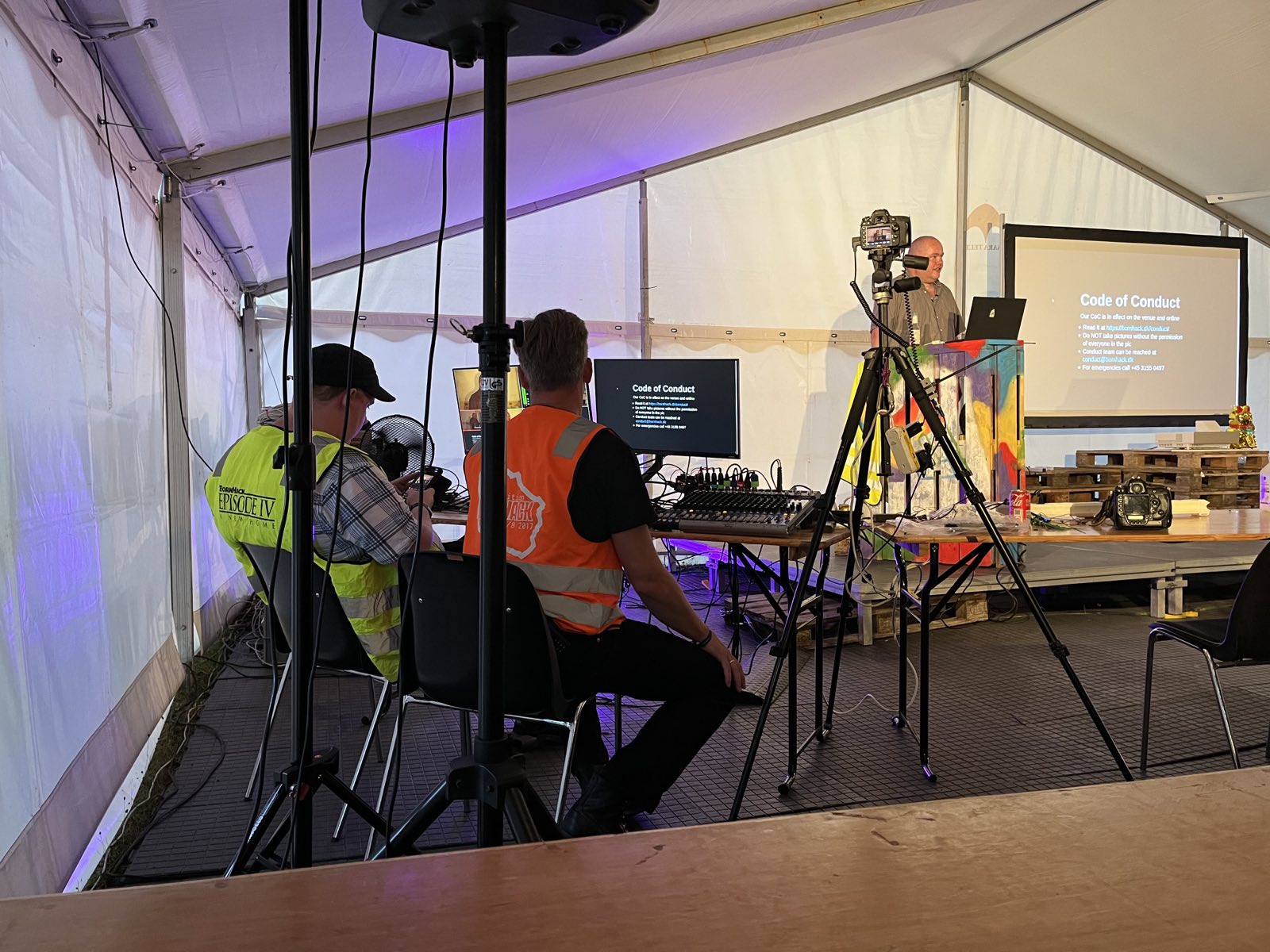 We love all the positive feedback we've received, but we also want to know how we can improve. Please use the feedback form to provide feedback about the event (positive and negative). Orga has an evaluation meeting about a month from now where we will be going through all the feedback. Remember you can also provide feedback on individual speakers and talks by pressing the Feedback button on the detail page for the event in the program. The Content Team uses this information to help shape the program for the next BornHack event so please make your voice heard if you want to influence who goes on stage next time.
We really want to see all the cool pictures and video you have from the event. We also want an easy way to access, search and archive such content. To that end we are working on a public BornHack media archive where people can upload pictures and video from the events under a CC license. If you want to help build it you can contact the website team.
We will be announcing the dates for BornHack 2023 soon, we expect it will be the 2nd to 9th of August 2023, but it is not quite final yet. We will create the 2023 volunteer teams and add tickets to the webshop and all that within a few months.
Thank you to everyone who was a part of BornHack 2022. It was fantastic!
---
Show archived news items