Get BornHack news as a RSS feed
---
BornHack 2022 happened and it was amazing. A few hundred people coming together to develop, use, explore, criticize, and celebrate technology is quite a thing to be a part of! The talks were fantastic, the workshops were productive, the recreational events were fun. The bar was well-stocked and full of lovely people. The weather was mostly great. The Food Area had constant activity with people cooking, eating, or waiting in line for the food truck. The whole venue was beautifully lit in colourful and creative ways. Powerful lasers and flamethrowers provided impressive and popular evening shows.
There were a lot of villages and camps this year. They were big, and fun, and full of the kind of sights and sounds you only get at a hacker camp. Walking around the venue and taking it all in is incredible. It means so much to the event that camps and villages are so diverse and overflowing with weird and wonderful experiences. Please keep it up!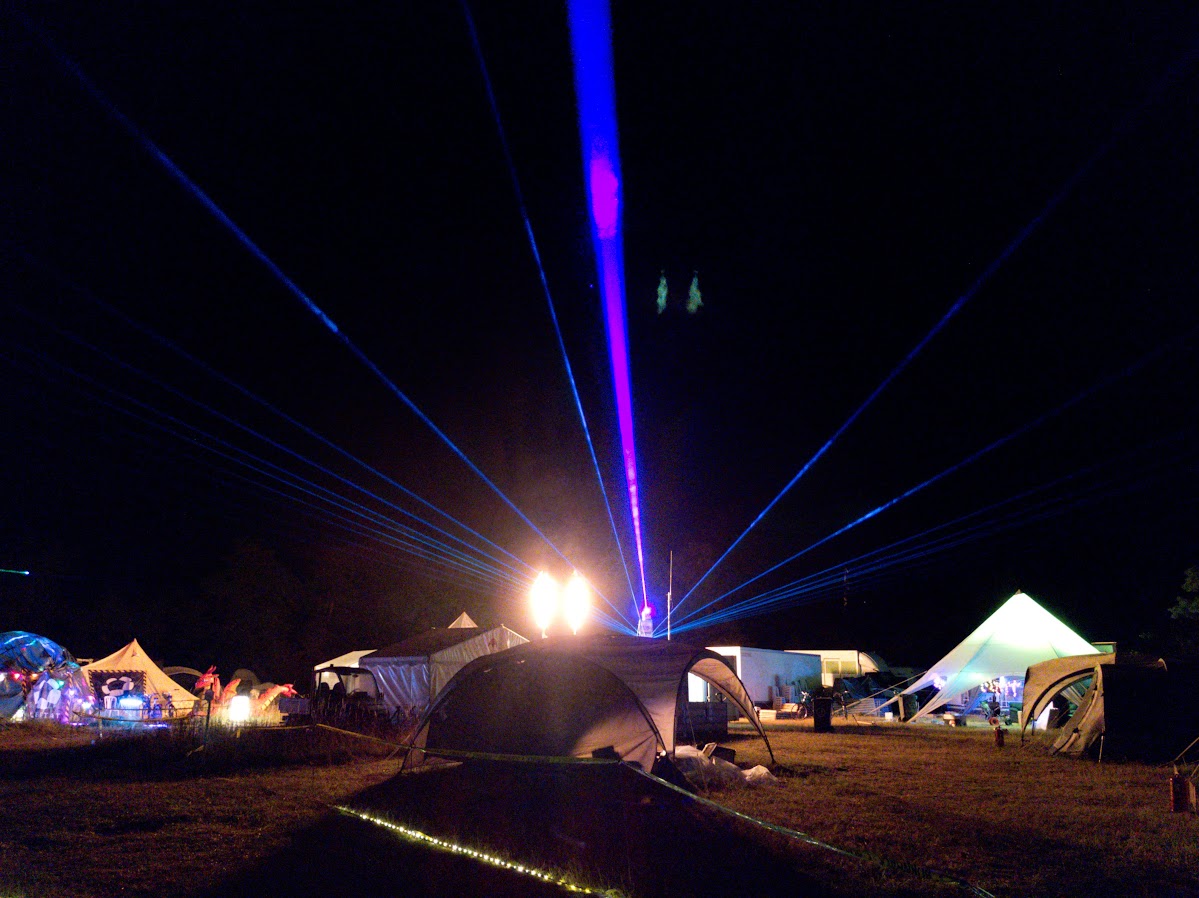 The best-kept secret about BornHack is that it is actually a two week event. One week is the actual event, the other is buildup and teardown. It is a lot of fun and it can be very rewarding to be a part of. The first buildup crew arrived at the venue almost a week before the opening day. The last teardown crew left the venue 4 days after the closing day. Teardown was delayed about 24 hours due to massive heat making the work slow and difficult. But all things considered buildup and teardown went really well. Thank you to everyone who helped out!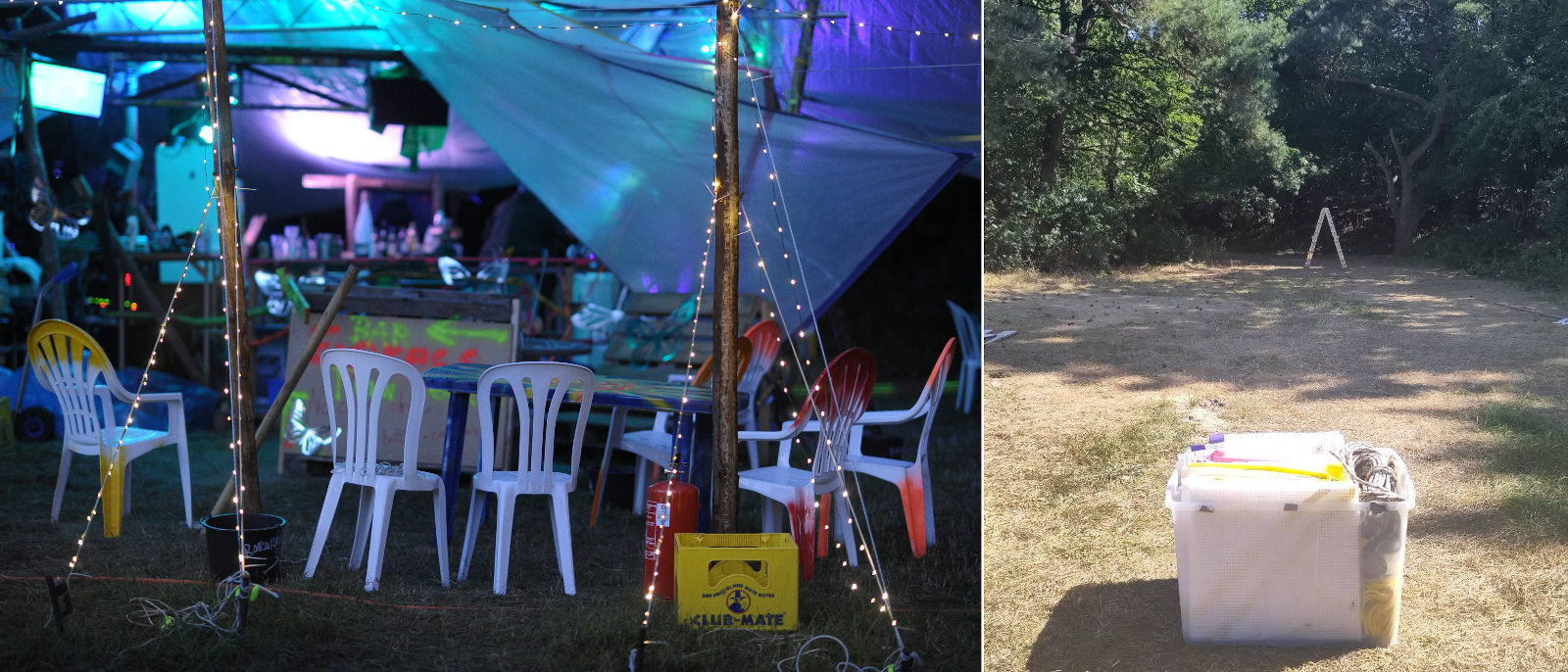 The bar during Bornhack and a few days before teardown ended. What a transformation :-D
We had a brand new video setup this year for streaming and recording talks. The video team did an amazing job of adapting to using the new hardware and software, and it worked really well! Remote viewers could stream talks as well as the very popular ant farm stream live, and of course everything was recorded. After the event we had to do manual post-processing and upload of videos to C3VOC. It took a while to get there (and we will have this automated for 2023) but it is with great pleasure we can finally announce that the BornHack 2022 videos are available kindly hosted by media.ccc.de.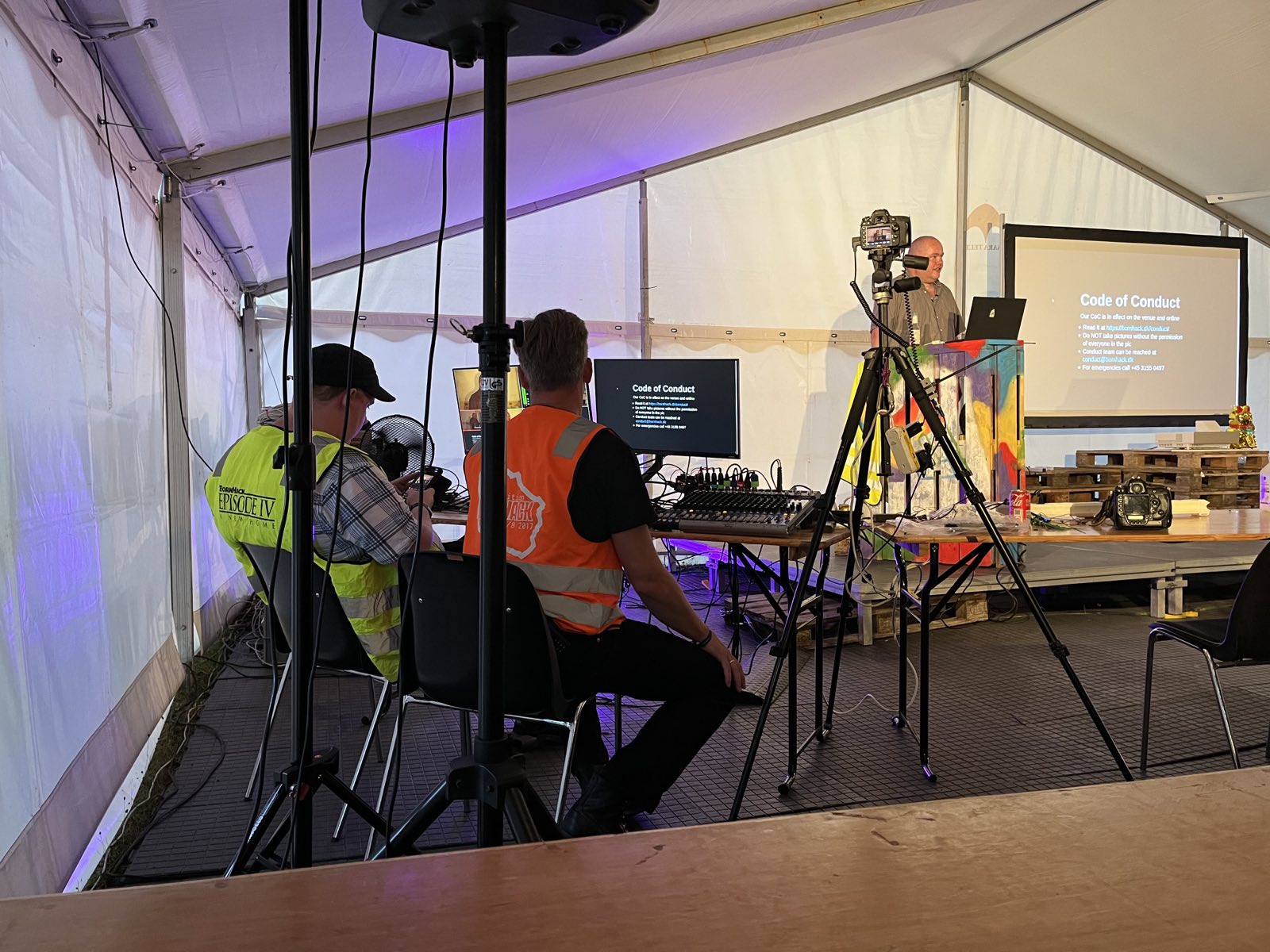 We love all the positive feedback we've received, but we also want to know how we can improve. Please use the feedback form to provide feedback about the event (positive and negative). Orga has an evaluation meeting about a month from now where we will be going through all the feedback. Remember you can also provide feedback on individual speakers and talks by pressing the Feedback button on the detail page for the event in the program. The Content Team uses this information to help shape the program for the next BornHack event so please make your voice heard if you want to influence who goes on stage next time.
We really want to see all the cool pictures and video you have from the event. We also want an easy way to access, search and archive such content. To that end we are working on a public BornHack media archive where people can upload pictures and video from the events under a CC license. If you want to help build it you can contact the website team.
We will be announcing the dates for BornHack 2023 soon, we expect it will be the 2nd to 9th of August 2023, but it is not quite final yet. We will create the 2023 volunteer teams and add tickets to the webshop and all that within a few months.
Thank you to everyone who was a part of BornHack 2022. It was fantastic!
---
If you want to see the talks from the speakers tent while staying in your own village, please use these links:
https://live.bornhack.dk/
https://streaming.media.ccc.de/bornhack2022
Since the beginning of BornHack and until now we have been using YouTube for live streaming our content, but for several reasons this platform will not be used for this purpose any longer.
As an experiment, we are also streaming via a Tor Onion Service that can be found at xgsobitduxv7gcc5qlveigwiku7qcjn5exf4ayusw4mwq7kfrapmrjyd.onion using Tor Browser.
YouTube will, however, still host our historic content from 2016 and onwards.
---
It is now finally possible to register your BornHack 2022 village. Registering your village is a good way to make sure it is possible for people to find you, advertise your interests and maybe attract new people to the village.
Villages are clusters of tents typically built by a group of friends, a hackerspace, a group with a shared interest (like a programming language), and so on. It is in no way a requirement to stay in a village when you place your tent at BornHack, but it can be a good way to meet new people.
Remember that our Code of Conduct applies to village names and descriptions.
Now go register your BornHack 2022 village, we are looking forward to seeing everyone in a little over two weeks :)
---
The BornHack village at May Contain Hackers has been placed on the map by the villages team. The village is part of the Cold North cluster and we have been placed in the Lamarr field next to our friends from PRKL and other Nordic villages. It looks like a great spot and we are very much looking forward to going there soon.
If you are joining the BornHack village at MCH please let us know by sending us an email to info@bornhack.dk or join the village on the MCH wiki.
We are so busy preparing BornHack 2022 that it is hard to believe we have a great event like MCH coming up even sooner. See you all there!
---
BornHack is going to MCH!
The big european hackercamps is where it all began for the BornHack orga, so of course we are going to MCH! We are organising a village for BornHack volunteers, participants and hangarounds, and everyone is welcome to join :)
We have a 5mx10m tent rented from MCH including tables, chairs, and benches. We usually cook some food on the barbeque in the evenings. Payment for tent and food is donation based and the system usually works well if everyone chips in.
The first time we did a big open BornHack village was at CCC Camp in 2019 and it was amazing. We hope to recreate some of the mood and atmosphere from that event, and maybe convince some of the other MCH participants to join BornHack!
If you are planning to join the village please send us an email to info@bornhack.dk and tell us how many people and tents you are bringing, and if there is anything else we need to know.
---
You can follow our kickoff event "online edition" on our jitsi:
Please disable your camera and microphone when you join.
---
The BornHack 2022 Kickoff is finally upon us! We have been looking forward to it and can't wait to see everyone :)
We wanted to share a quick update to remind everyone about a few practical things as well as the schedule. Hylkedam is open for business from 15:00 today (Wednesday) and until 12:00 on Sunday.
The cabins are available for sleeping, and there is plenty of beds for all of us. Some people choose to bring tents or caravans which is also fine. We will be setting up a small camp with tents and caravans in food area which is close to electricity and toilets. If you are sleeping in the cabins remember to bring a bed sheet, sleeping bag or duvet, and a pillow.
We will have three meals per day, breakfeast is from 9-10, lunch from 13-14 and dinner from 19-20. Please make sure you have signed up on the Doodle so we know how many people to cook for! Jonathan (our usual volunteer chef during events) is arriving Wednesday evening and will be cooking all the meals.
The plan for the coming days can be seen here and we might change it up a bit as we get together and maybe figure out some better ways to do things.
Details about online participation will be out this evening or early Thursday where the kickoff begins at 11:00.
---
The BornHack 2022 Kickoff is approaching fast, and we want to share some more details about what we are planning for the 26th of May and the following days.
First of all, the 2022 kickoff is a physical event at Hylkedam. There will be streaming of the important parts for those unable to join us in person. We will be sleeping in the cabins or you can bring a tent or caravan if you wish.
Our volunteer chef Jonathan will be joining us to cook three nice meals for us per day, just like we are used to from buildup and teardown during the events. Expect to chip in around 100,- DKK per day for the food.
We created a Doodle to help keep track of how many people to cook for. Please sign up so we know you are coming :)
The plan for the extended weekend looks like this, will be updated as we get closer:
Wednesday, May 25th, 2022 (Kickoff day -1)
Orga arrives during the day
19:00-20:00 Dinner
20:00-??:?? Hangout, bonfire, boardgames, hacking....
Thursday, May 26th, 2022 (Kickoff day 0 - MAIN KICKOFF DAY)
09:00-09:45 Breakfast
10:00-11:00 Arrivals...
11:00 Kickoff start

General introduction (streamed)
Team introductions (streamed)

13:00-13:45 Lunch
14:00-14:45 Walk the terrain
15:00-17:00 Team breakout sessions (about 20 min per session)

15:00 Session 1

CERT Team
Construction Team
Food Area Team
Logistics Team
Power Team
Shuttle Bus Team

15:30 Session 2

Bar Team
Game Team
Merch Team
Photo Team
Sanitation Team
Website Team

16:00 Session 3

Badge Team
Content Team
Metrics Team
NOC Team
Wellness Team

16:30 Session 4

Info Team
Light Team
POC Team
ROC Team
Video team

17:00 Finish official program
19:00-20:00 Dinner
20:00-??:?? Hangout, bonfire, boardgames, hacking....
Friday, May 27th, 2022 (Kickoff day 1)
09:00-09:45 Breakfast
10:00-13:00 CERT workshop (including basic first aid course "BLS", about 60 mins including hands-on)
10:00-13:00 Web team session 1
10:00-13:00 Storage cleanup session 1
13:00-13:45 Lunch
14:00-19:00 Web team session 2
14:00-19:00 Storage cleanup session 2
14:00-16:00 Video team workshop
16:30-18:30 Redraw the venue map
19:00-20:00 Dinner
20:00-??:?? Hangout, bonfire, boardgames, hacking....
Saturday, May 28th, 2022 (Kickoff day 2)
09:00-09:45 Breakfast
10:00-13:00 Web team session 3
10:00-13:00 CERT first aid part 2 (if needed)
10:00-13:00 Storage cleanup session 3 (if needed)
13:00-13:45 Lunch
14:00-19:00 Web team session 4
14:00-19:00 Storage cleanup session 4 (if needed)
19:00-20:00 Dinner
20:00-??:?? Hangout, bonfire, boardgames, hacking....
Sunday, May 29th, 2022 (Kickoff day 3)
09:00-09:45 Breakfast
Cleanup
Leave (~12:00 latest)
The kickoff is only a couple of weeks away. We are looking forward to seeing everyone and to getting a lot of stuff done. See you there!
---
We are looking for sponsors that want to help make BornHack 2022 a great event!
We firmly believe that people's financial situation should not affect their ability to participate in hacker community events. Consequently, we keep BornHack ticket prices low so everyone can attend. But venues, tents, internet, and electricity cost money, so we rely on sponsors to make ends meet.
BornHack sponsors are loyal, they usually stay on as sponsors year after year. Typical cash sponsorships fall between 10-30k DKK, enough to make a big difference in our budget!
Some are sponsors simply because they recognise the value of having a great annual event to strengthen the community. Others sponsor so they can get a shot at recruiting among the talented BornHack participants. Whatever the reasons we are very grateful for the help we are getting. Knowing that so many fine organisations want to see BornHack succeed makes us all work extra hard!
Over the coming weeks, we will be contacting existing sponsors to work out the details for 2022. If you hear about an organisation in a position to financially support BornHack please get in touch. More information about sponsor packages can be found in our Call for Sponsors.
---
The BornHack 2022 Call for Participation is open!
We are looking for talented, humorous, inspiring, and/or provocative speakers to host talks, workshops and other events to make the official program at BornHack 2022 live up to the high expectations set by previous years. If you have something interesting to say, we probably want to hear it! Read our Call for Participation to learn more and submit your content today.
We prefer submissions as early as possible so we have more time to plan the final program and coordinate with speakers. Please submit sooner rather than later.
---
BornHack is a volunteer driven event, a labour of love. Everything that gets done at BornHack is unpaid volunteer work, with a few exceptions handled by external people (like safety checking the power grid or operating the forklift when offloading trucks).
During buildup and teardown we provide three nice meals every day to keep our volunteers well fed. We do not expect any specific number of hours or shifts from volunteers. Everyone helps out as much or as little as they feel like. We never let volunteers handle dangerous work.
We can always use more volunteers! If you want to help out you can check the teams page and find a team or two which suits you. Please don't hold back - volunteering is easy, and it is a great way to combine helping out with meeting other friendly hackers. Many of our teams need no special skills, just bring good mood and energy :)
If you have questions about volunteering you can write us an email or join our active IRC community where someone is usually available to answer.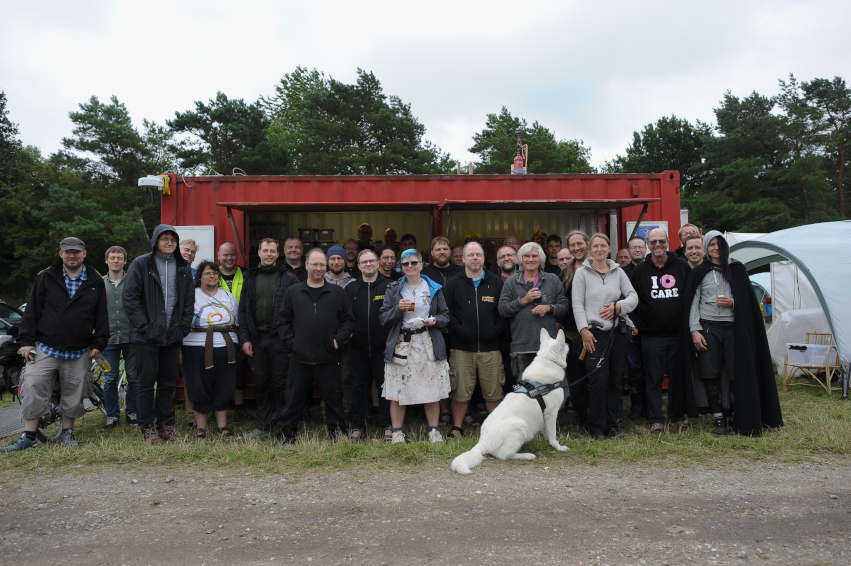 Kick-Off at Hylkedam
The BornHack 2022 volunteer kickoff will be from
May 26th at 11:00 until 17:00
, and this year we are having a
physical kick-off at the venue
! The activities on the kickoff will plan and prepare each teams activities over the coming months. Participating in the kickoff is relevant not only for volunteers who already know which team(s) they want to join, but also for new volunteers who have yet to decide where they can best help out.
After the official kickoff is over we are staying for a few more days at Hylkedam for team workshops and fun. Volunteers are welcome to join only for the kickoff on Thursday the 26th of May, or you can stay for one or more nights (the cabins are available, or you can bring a tent). We are leaving Hylkedam Sunday the 29th of May in the afternoon.
Participating in the kickoff is free, but expect to chip in around 100,- DKK/HAX (around 14€) for food per day (excluding Thursday). It will also be possible to join the kickoff virtually if you are unable to participate in person. Stay tuned for more details about the 2022 kickoff.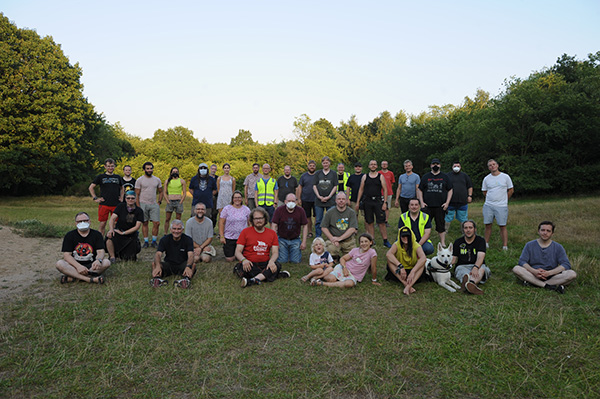 ---
It is with great pride and joy that we are announcing the seventh annual BornHack! We are looking forward to organising yet another fantastic event where the hacker community can meet up to learn new things, rekindle relations, work together, watch talks, socialise, and have fun!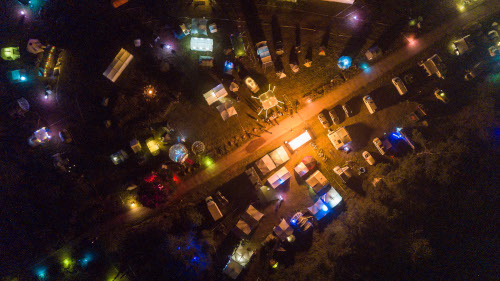 Webshop and Ticket Sales
First of all: The ticket sales for BornHack 2022 are open! Prices for tickets are unchanged since 2016 (although inflation is threatening to change that in the future).
We have the usual selection of tickets: Adult (15+) tickets come in budget, student, standard, hacker, supporter and corporate versions. The only difference is the price. Please pay as much as you can afford! All the adult tickets give the same access to the event, the only difference is the price. Tickets for children 5-15 are also available, children under 5 participate for free. We also have 1-day tickets for adults or children who want less than the full week.
Members of Prosa should consider getting the new Prosa Hacker Ticket. This year we are trying out a new form of sponsorship from Prosa where the union pays half the ticket price for their members who wants to attend BornHack. We are hoping to make similar sponsor deals with other organisations in the future.
Tickets for village gear and cabin beds/full cabins are also available. Village gear prices have increased a bit, cabin prices are unchanged.
Regarding payments: If you have a Danish bank account we prefer a bank transfer, otherwise we prefer credit card or blockchain payment. You can even pay in cash if geography makes it convenient for you to meet with an organiser (like at a conference or someting). If you select cash payment and intend to pay at the event, and your order contains merchandise and/or village gear (where we have external costs), we will likely contact you by mail to make sure you intend to show up.
COVID-19 Restrictions
BornHack in 2021 and especially in 2020 were affected by the pandemic in various ways, from the physical distancing and restrictions at the venue to hard limits on the number of available tickets. We expect 2022 to be more normal with no government mandated restrictions and limited restrictions on the venue. We are of course watching the developments around COVID-19 as closely as we need to.
---
Show archived news items