Get BornHack news as a RSS feed
---
A few of you early leavers have asked about getting cars in and out of the venue today.
We will open the gate and ensure a yellow vest to escort you at the following times:
Entry Only
13:00 - 13:15
19:00 - 19:15
Exit Only
15:00 - 15:15
21:00 - 21:15
The gate will be open from 12:00 tomorrow when the event is officially over.
Please remember to drive extremely slowly around the venue!
---
For those of you who missed out on the last batch of badges earlier in the week, there is now a fresh stash available at the Info Desk. Remember to bring your BornHack ticket (the one with the QR code).
---
The 2020 edition of the BornHack Token Hunt ends at 15:00 today. At that time we'll pull the numbers from the system so hurry up and try to find the last of those elusive little buggers :-) You can continue the hunt after we pull the stats, your progress will just not count in the competition. We will present the outcome of the game at the Goodbye World talk this evening.
---
Your pre-ordered merchandise is available for pickup in the info desk and can be picked up during our opening hours.
We also have souvenirs in the form of our popular vodkas from previous years, Tsunami Essence and Yolo Solo, as well as a selection of previous years' badges for sale. Finally, we have a very limited supply of collectors-edition drinking bottles with our old logo on them.
---
We would like to photograph the camp from a drone, and have chosen two time slots Monday the 17th. The drone will only take still pictures and will be in the air from 13:00 to 13:15 and again from 23:00 to 23:15.
Even though the drone will be photographing from a high altitude, if you do not want to be photographed from above, please try to be either in one of the tents, under the shades or in the cabin.
---
We have hidden a number of tokens at BornHack. They may be on the website or on physical items. They may be in the clear or they can be obfuscated or encoded. The tokens are 32 bytes long and conform to this regular expression.
If you think you found a token you have to visit the BornHack website under /token/ to see if it is valid. For example, if you found the string pBE8AByKGR2WhWEQgXWp85QANHwrNcdF you would visit https://bornhack.dk/token/pBE8AByKGR2WhWEQgXWp85QANHwrNcdF/ while logged in to register your find. If the token is wrong you will receive a 404 page. You can go to https://bornhack.dk/token/ to see a list of the tokens you've already found. Please don't brute-force the tokens, it would take forever, and creates an unhealthy load on our servers.
Anyone who finds all the tokens will win a prize. At the Goodbye World talk on Monday we will announce the winners.
Happy hunting!
---
Yesterday, Wednesday the 12th of August we had a visitor here who learned today that they are COVID-19 positive. The person was only here yesterday and is no longer on the venue, and the people that have been in close contact with the person have been notified and are isolating themselves.
Since we are basically running this entire event under the assumption that everyone could be infected we don't have to change anything, so this update is mostly a reminder to make sure everyone remembers the good habits:
Wash your hands often and thorougly
Use disinfecting alcohol
Maintain 1 meter distance to others
Wear a mask (for sale for 10 HAX/DKK in the infodesk)
Take care of yourself and others!
---
We are happy to announce that our food vendor, Curtis from S.C. Smørrebrød, is arranging two barbecues in the Food Area.
The first barbecue is on Thursday from 18:00. Curtis will be serving a menu consisting of barbecued ribs with fries, salad and homemade dressing. The price per person for Thursday is 100 kr.
The second barbecue is on Sunday, also from 18:00. Here, Curtis will be serving "all you can eat" roast suckling pig with creamed potatoes, salad and homemade dressing. The price per person for Sunday is 120 kr.
Please remember to pre-order at Curtis' food truck in the food area the day before so they know how much to cook!
---
Just like last year, the wellness team has organised for a local masseuse to come by and massage your aching muscles. He will be here on Friday and Sunday during the camp as well as Monday evening during buildup and Wednesday evening during teardown. You can book your 30-minute slot at the info desk, and you have to purchase a massage ticket for the appropriate day from the shop. Please ensure the ticket is paid for before you show up for your appointment. Enjoy!
-- The BornHack wellness team
---
As promised an update on BornHack 2020 and the new COVID-19 restrictions announced in Denmark yesterday. Good news first: BornHack is going ahead as planned with 150 participants!
Like many of you we were very concerned about the announcement yesterday and how it might affect BornHack 2020. We've been in contact with the Danish authorities throughout the day, to clarify whether we are covered by "sektorpartnerskabsretningslinjerne", the documents which define the conditions of the gradual Danish reopening of society after COVID-19 lockdown.
The authorities has confirmed that BornHack IVS (the legal entity behind BornHack) is indeed covered as an IT conference, meaning the current limit to the number of participants is 150 as originally defined by our agreement with the Police in our public event permit.
We are thrilled that BornHack is going ahead as planned, and we want to take this time to remind all participants going here to continue to observe the usual guidelines from WHO and health authorities. We love all you anarchists, but in this case we ask that everyone follow the rules:
Socialise at a distance
Wash your hands
Wear a mask when needed (disposable masks are available for 10HAX in the infodesk)
It goes without saying that if you have any flu-like symptoms please stay home and we will see you next year. If you are able to get a COVID-19 test before going here, great, but it is not a requirement.
See you all soon!
---
Earlier Thursday (August 6th 2020) the Danish authorities revised their recommendations for event hosts, such as BornHack, such that the maximum of 100 participants is kept for now instead of the increased 200 participant limit that was planned to take effect starting August 8.
Since we just arrived on the ground, we haven't had time to reach out to our contacts at the authorities yet, but tomorrow we will be in touch with them on how to handle this situation. We will make an update on this matter at some point during Friday (August 7th 2020) here on our website once we have a complete overview.
If we need to refund your ticket you will know by the end of Friday the 7th, but we expect to be able to manage this mostly through cancellations.
Stay tuned!
---
The 2020 edition of the merchandise is available in the shop now. It is the same brand of clothing as the previous three years, so you can also compare sizes with previously bought merchandise, though the heavy hooded cardigan from previous years sadly isn't available anymore.
Please get your order in as quickly as possible, so that we will have a chance at getting the right sizes in time. All merchandise orders will be delivered at BornHack, but will NOT be produced until fully paid. If you decide to pay in cash, please do so as soon as possible after arriving.
We can't guarantee that orders containing merchandise not paid by Friday August 7th 2020 will be fulfilled, but we will of course do our best.
---
BornHack 2020 buildup begins on Friday, August 7th at noon (12:00 CEST). In the next 96 hours following that a lot has to get done, and we hope to see many people join us to help with the work.
This post contains some important information about buildup (and it also applies to teardown with very few modifications). Please read all of it! :)
Teams
First of all, please use the website to join the team(s) you plan to help out on - Logistics and Construction can always use more hands, regardless of your skill level. Joining a team helps the team responsible plan the work and it helps us plan how much food to prepare and such.
Corona Test Required
Secondly, and this is more important, we ask that
everyone
who is joining buildup to bring and show a recent (max. 1 week old) negative Corona / COVID-19 test.
If you live abroad you can check with your local authorities how to book a test. You will also be offered a free test when crossing the border into Denmark, we suggest you accept the offer.
If you live in Denmark you can book a time on https://www.coronaprover.dk/ - it is free. It takes a couple of days to get the answer, so if you are joining buildup on Friday the 7th you should book a test no later than Wednesday the 5th so you have the answer before joining us. If you are concerned about your DNA ending up in a database/register you can request a destruction of your biomatter after the test.
The logic of requiring a test for buildup but not for the actual event might seem weird, but we feel it makes sense since we will be working very close together during buildup. We appreciate your understanding as we continue to work out how to best organise an event in these unique conditions.
Food
This year for buildup and teardown we are lucky to have Jonathan cooking all our meals, who besides being a sharp dresser is a skilled professional chef. Volunteers can expect three nice meals at regular times every day - 08, 13 and 19, and a goodnight snack/beer/status at 22. The food and beverages are free, although you are welcome to donate some money in the donation box present at all meals.
The menu will include options for people following vegan and vegetarian diets. You are also always welcome talk to the chef if you have special requirements, and we will see what we can do.
Stay tuned for more news, and see you at the venue from the 7th!
---
Today marks one week before the first organisers arrive at the venue to start buildup for BornHack 2020, and 11 days until the event officially begins. If you are joining us for buildup remember to join some teams, and please let us know you are arriving so we have an idea of how many to cook for and such.
At the moment of writing the COVID-19 situation in Denmark is pretty good and reasonably stable. The borders are open, but please double check for yourself before embarking on a long journey, see the links below. In case you need to prove the duration of your stay at the border the BornHack ticket PDF now shows the event dates, as well as buildup and teardown dates.
Denmark currently has no mask requirements, but it might be a good idea to use one anyway, especially in crowded places like public transport when travelling to/from BornHack. Danish pharmacies sell decent disposable masks, and reusable masks can be purchased in many places. There is also an official Danish contact tracing app which is based on Apple's and Google's stuff, but not open source :(
We've included a couple of links to official information from the Danish authorities below, specifically about visiting Denmark from abroad during the pandemic. We suggest you read them - they contain good advice, and some of it also applies if you are visiting us from inside Denmark :)
We have the permits we need, and at the moment it looks like we will be able to execute BornHack 2020 as planned, with max. 150 people. If something should change over the next 11 days, such as new restrictions because of a new outbreak, we will re-evaluate our options at that time.
We have a waiting list of around 5-10 people right now. If you are a ticket holder and you know you are not going, please contact us for a refund, others will be very happy to get your ticket.
If you are going then please consider submitting a talk or some such if you haven't already. We would love to have a bit more content for the program.
Until then, stay safe, make sure you pack clothes for all kinds of weather. We are all looking forward to seeing everyone on the 11th of August!
---
Like the previous years we offer participants the option of renting one or more fridge shelves to keep groceries chilled until it is time to eat them.
This year we are using a different fridge supplier, so the fridges look different than the previous years: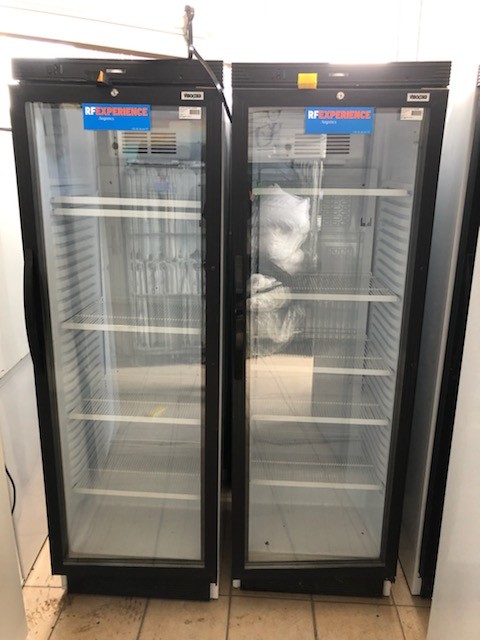 A fridge shelf is 200,- DKK and if you rent all 6 shelves in a fridge you can take it to your village and keep it there. If you do so please take good care of the fridge, and please return it clean and ready to go back to our supplier.
You can find the fridges in the webshop!
---
We are very happy to finally share this year's tagline and logo: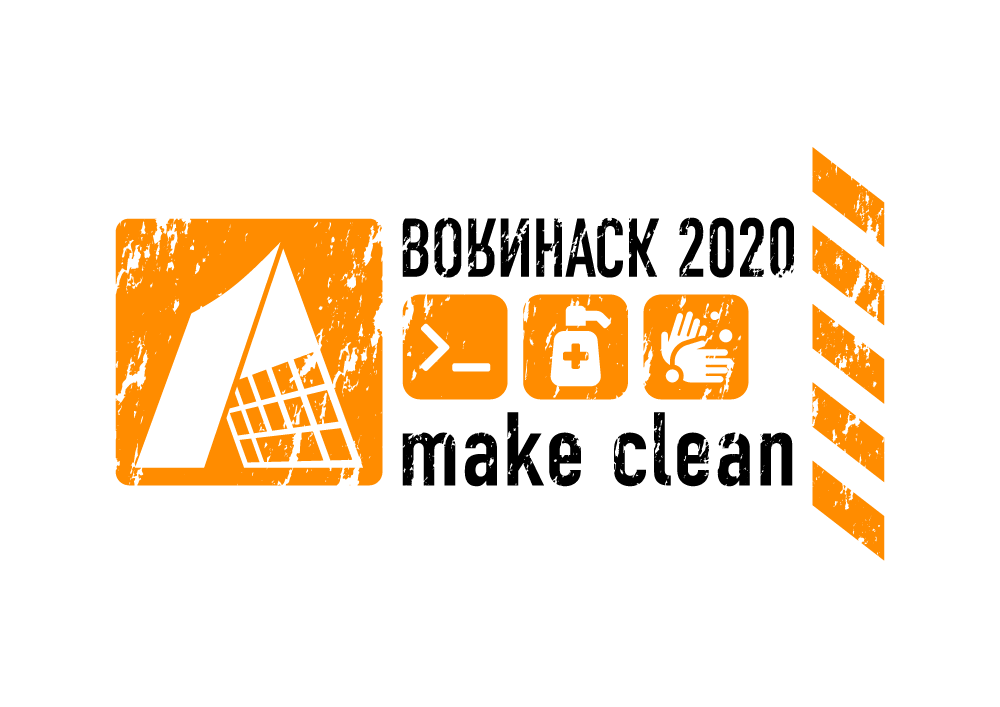 We look forward to seeing this on hoodies and t-shirts, and not least as stickers on your laptop.
---
Today we sold the last ticket for BornHack 2020. As we've previously mentioned we are limiting the number of participants to 150 this year. If you are one of the lucky ones who got a ticket, great, we are looking forward to seeing you there! If not, we hope to see you next year, when we are hopefully able to operate at full capacity again.
The average price per ticket sold this year is around 1320,- DKK, considerably more than the 1200,- DKK price of a standard ticket. We would like to express our sincere gratitude to the participants who choose to pay more for their tickets, so we can offer lower prices for the student- and budget-ticket holders. Making it possible for everyone to participate within their own economic constraints has always been a priority for the organisers, it is encouraging to see our participants step up and help make this happen year after year. Thank you!
---
Preparations for BornHack 2020 are ongoing and we are excited to announce that we've made an agreement with the food vendor who is going to serve food for the participants this year.
The food vendor will be S.C. Smørrebrød, they will be there all week, opening around 10-11 and closing around 21.
They will serve sausages, sandwiches and other traditional Danish "pølsevogns" food all day. Additionally, at lunch they will also serve "smørrebrød" - the traditional Danish "open sandwiches" on rye bread. In the evening they will serve some hot meal which will vary from day to day.
They will also offer vegetarian and vegan options, and of course there will also be a Food Area like there always is, with plenty of options for cooking your own food.
BornHack 2020 is less than 1 month away now. We are looking forward to seeing everyone. Stay tuned for more news about the upcoming event!
---
We are aware that many people have been waiting for news about BornHack 2020, and we appreciate the patience. This is a new situation for everyone, and we are doing everything in our power to find solutions to all the new challenges.
First the good news: BornHack 2020 is going ahead, although with some modifications. We are limiting the number of participants to 150, and the event will be different in some ways due to social distancing requirements, and the smaller size. For reference, 150 people is the same number of participants that BornHack 2017 had.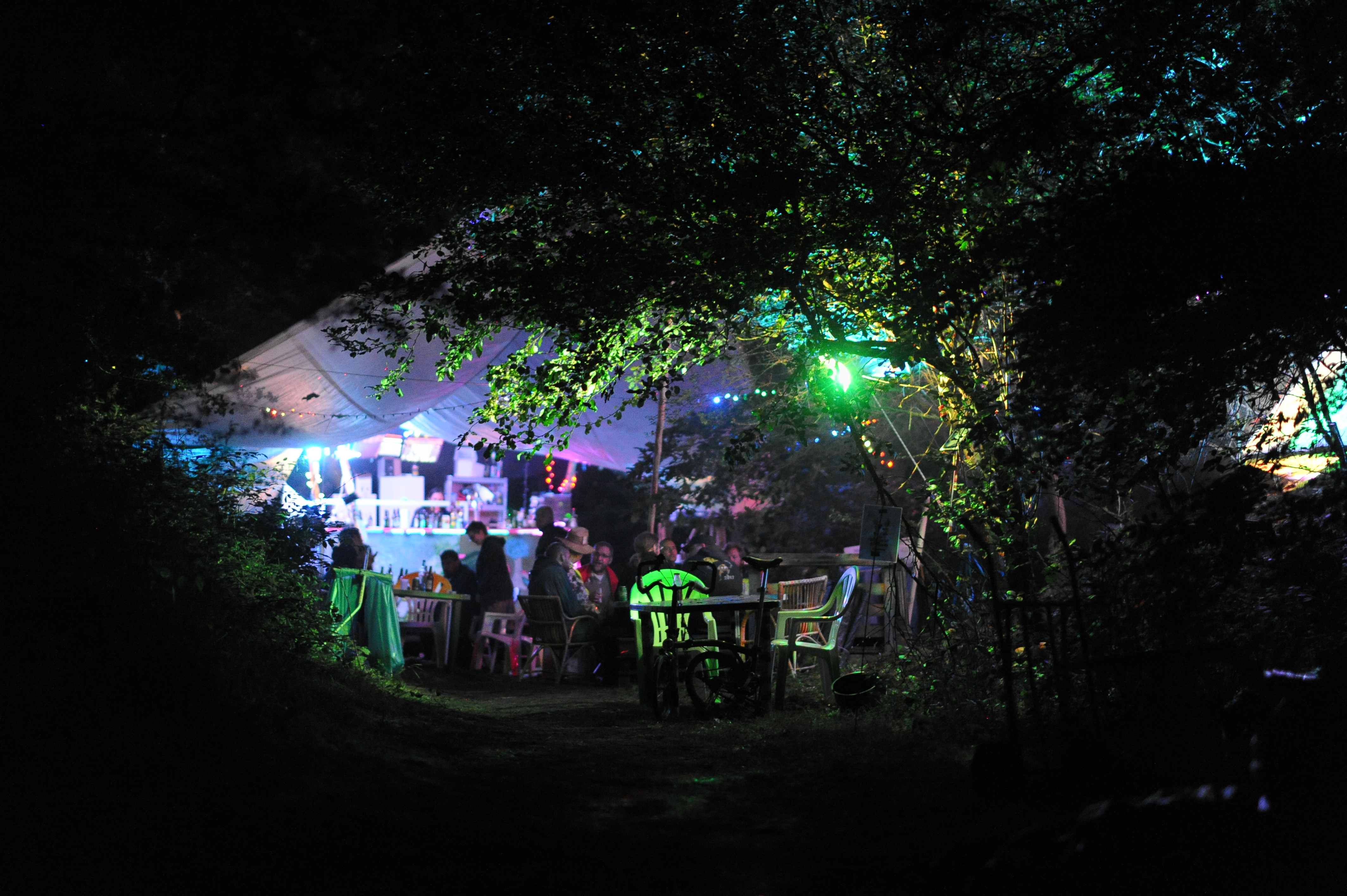 The Corona situation is changing rapidly, so naturally we cannot predict what guidelines the WHO and Danish government will have in place in 2 months, but we hope the current positive trends and gradual reopening will continue.
With the tickets being limited we'll probably end up selling all of them. If we then have to scale the event back to fewer than 150 people (due to Corona, or killer wasps, or space zombies) we will refund the latest bought tickets until we reach the right number. So get your ticket while you can, and please, pay as much for it as you can afford!
If the government (yours or the Danish) has travel restrictions in place such that you cannot travel to BornHack 2020, or if you change your mind for other reasons, we can refund your ticket or exchange it for a BornHack 2021 ticket.
The main priority for the organisers is to keep everyone safe while they attend BornHack and we'll implement measures to that end. Think spacing between seating, masks, handwashing and cleaning alcohol, limits to number of people in locations, and so on. But it also means that we expect everyone to act responsibly.
The program will consist of talks and workshops as usual, but with a larger focus on "meta" events. To that end we strongly encourage submission of talks and workshops aimed at improving future BornHack events, in addition to the regular content. The CFP has been updated accordingly.
With all that out of the way: We are very much looking forward to BornHack 2020. We expect it to be a great event as always, and a fantastic starting point for an even better BornHack 2021. 2020 has been a year of mostly bad news, so we could probably all use a nice week of hacking around, learning and having fun with old and new friends!
We will have the same facilities as you are used to, but scaled to the number of participants. We will still have an info desk, a food area, a speakers tent, and a bar. It will still be possible to have a hot shower and use a flushing toilet. Once the details get sorted out everything will be added to the new facilities section of the website.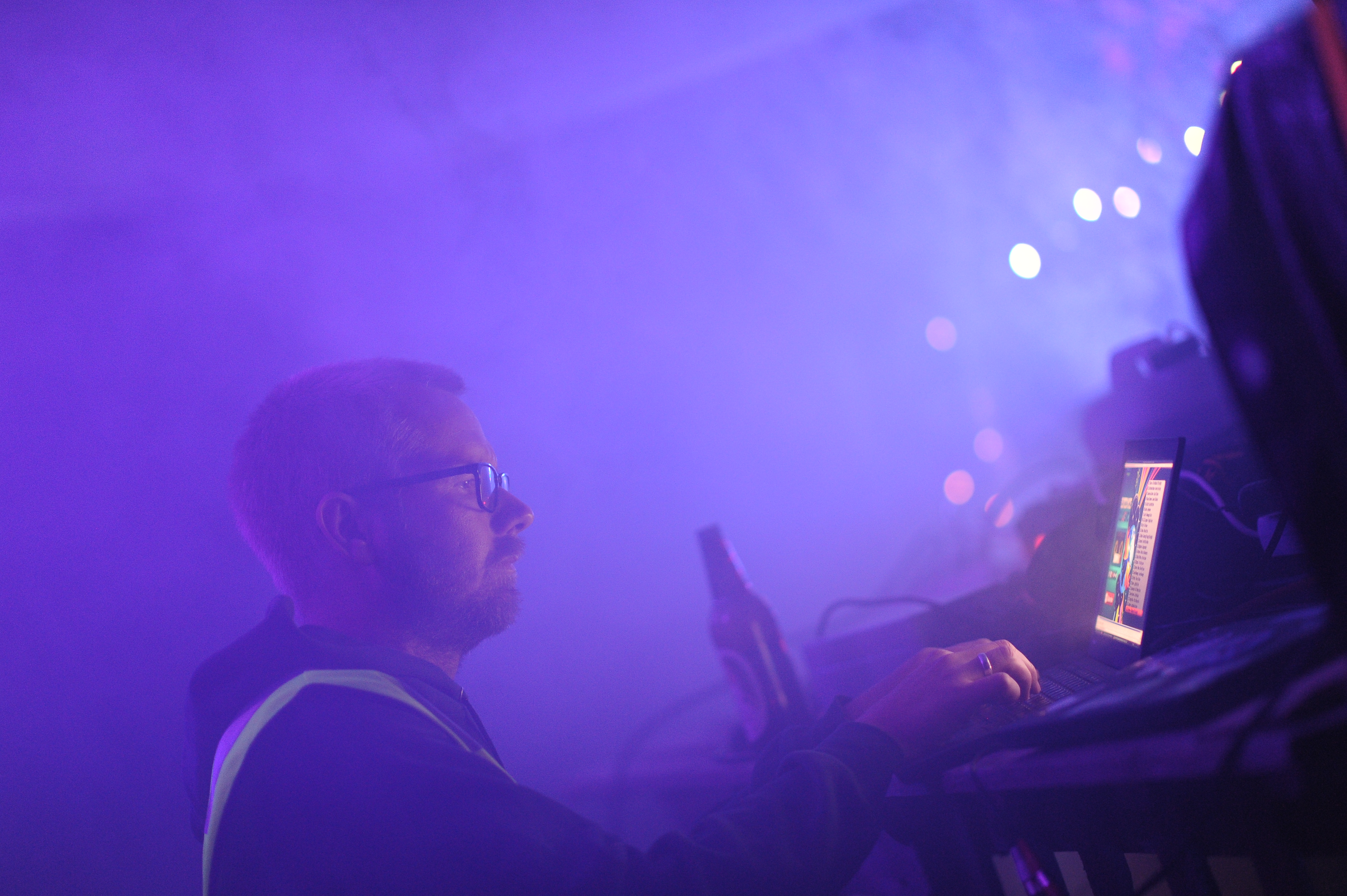 To sum up: Get your tickets now (and please pay as much as you can afford!), submit your talks and workshops now, volunteers join your teams now.
If a regular sponsorship is too expensive but you still wish to support BornHack financially, you can do so by using the new donation product in the webshop to donate in increments of 50,- DKK. Any amount is appreciated, all donations help ensure the future of BornHack.
---
Due to the COVID19 situation in the world the BornHack team is currently considering all options for whether executing BornHack 2020 will be possible in a safe manner. The current goal is to have BornHack as planned in August, but we will reevaluate the situation once we reach the Call for Participation deadline on the 1st of June.
We have updated our the BornHack 2020 Call for Participation with the same information.
Until then: Stay safe!
---
Today at 13:00 CET the much anticipated BornHack 2020 kickoff begins! We will be using our own Jitsi server for video meetings throughout the day.
The main stream will be at https://www.youtube.com/watch?v=H33QXzmnHcQ . Please join this one when we start.
The first part of the kickoff will be the Orga team presenting. This will be the biggest meeting of the day, so we will be streaming it to Youtube from 13:00 to ensure everyone gets a smooth experience. To ask questions you can join our IRC channel to ask or post the questions on this pad https://codimd.c3d2.de/BH2020-QA?both .
From around 14:00 we will break into team sessions in smaller Jitsi rooms. Many people help out on more than one team, we will try to accommodate this as much as possible. The team sessions take up the bulk of the day, and experience tells us each session can take anywhere from 30-60 minutes or longer, depending on the team.
Each team responsible will record the minutes of each team session, so if we do have overlapping meetings or you would like to know what happened in as session you missed you still can.
19:30 Party!
We'll meet in IRC on the main channel and at the jitsi server (if it can handle the inflow of people with camera streams).
---
In an attempt to make our volunteer kickoff for this year's BornHack a little bit more present and personal, we have decided to share the recipe for the very easy to make overnight buns that we had for breakfast during last year's buildup and teardown. This way, we can all sit in our homes and share freshly baked bread with our favourite topping, when virtually networking online.
We share this now so that you have a little time to get ready and remember, you have to start on Friday night:
Ingredients (makes ~10 buns):
The night before (5-10 minutes work time): In a medium bowl (~20 cm diameter) mix water, yeast and sugar, then add the rolled oats, followed by flour and salt. With a large spoon, combine it all into an even mixture, cover the bowl and put in refrigerator.
In the morning: (~5 minutes work time) Preheat oven to 200°C and prepare one or maybe two oven trays with non-stick paper. Using two forks, place little piles of dough on the baking sheets, roughly the size of the buns you want and bake them in the oven for 25-30 minutes until golden brown.
Let them cool for ~10 minutes on a cooling rack before eating.
Leftover buns should be kept in a sealed container or plastic bag, to prevent them from becoming very dry.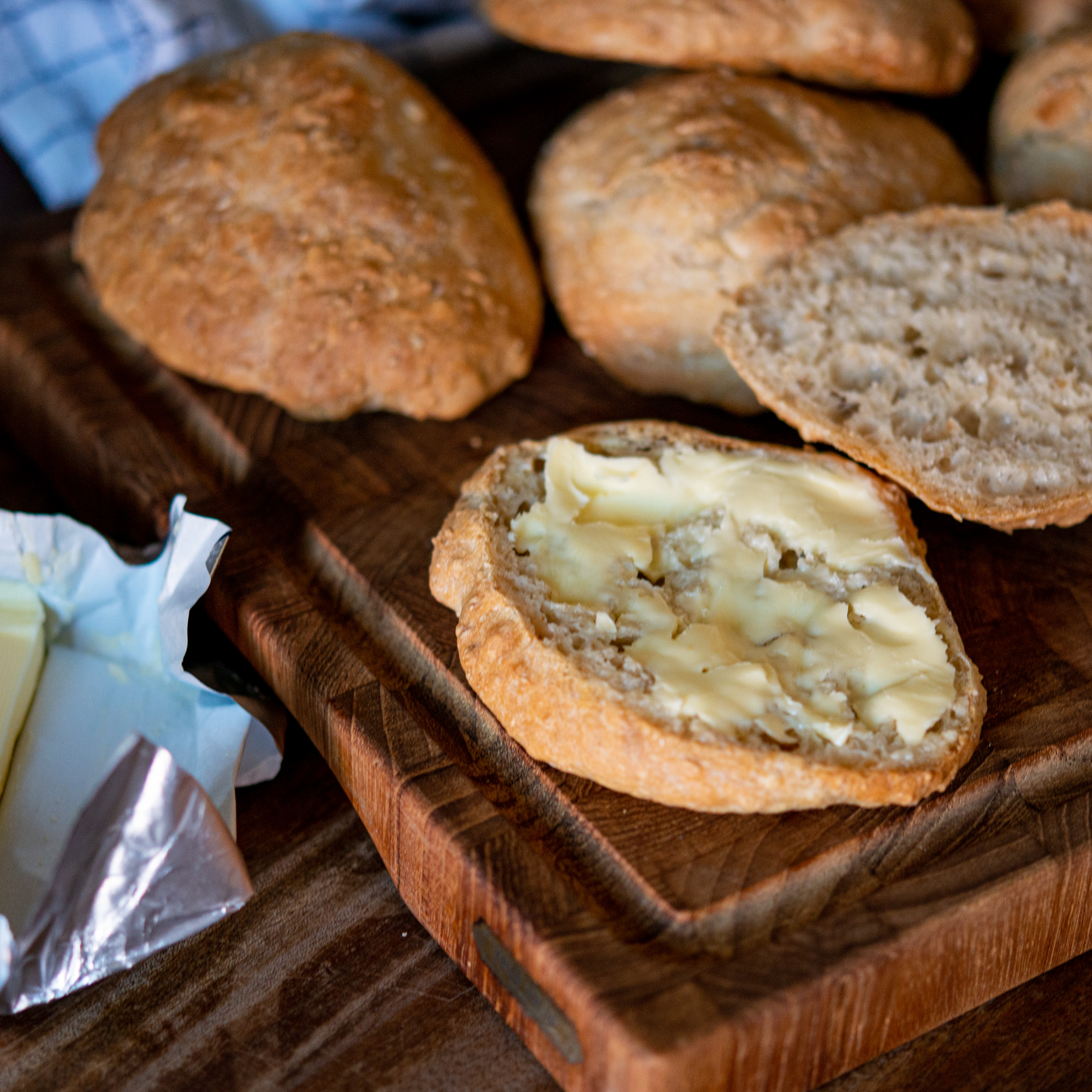 ---
Due to recent developments we are converting our kickoff and party on March 28th to online events. We still aim to have a great kickoff followed by a great social event, we just want to keep everyone safely at home while doing it.
We still begin the kickoff at 13:00 on the 28th - check back here for details about platform and stuff. You can participate just by listening in, but if you make sure your camera and microphone work you can engage much better with the conversations.
We will start the day with a shared session with everyone where we go over teams, major tasks, venue news, and other things. After the big session we will split into smaller team groups (likely using Jitsi) and discuss team specific topics. Expect the kickoff work to continue until dinner time, maybe 18 or 19.
Later in the evening we will transition to a more social event where people can catch up, make idle chitchat, get increasingly inebriated, play games and have fun.
We hope that everyone wants to join us to make the best of some difficult circumstances!
---
If you want to help make the next BornHack the best yet then you should join us for the BornHack 2020 kickoff in Copenhagen on Saturday, March 28th, 2020 from 13:00-20:00.
Are you considering volunteering for the first time? Are you a seasoned volunteer? Everyone is welcome to join us for what is usually a fun an productive day.
We will spend the day discussing how to improve and grow BornHack. The teams for BornHack 2020 have already been defined, so part of the job on 28th of March will be to better define and describe the tasks each team has to solve before and during the event.
Please fill in this Doodle if you intend to participate in the kickoff so we have some idea of how many people to expect.
This is a great chance to influence the team(s) you intend to help out on, so we hope to see a lot of people there!
The address for the kickoff is:
Dansk IT Medlemshuset
Vermundsgade 38
2100 København Ø
Denmark

Please make sure you've eaten lunch when you arrive - as always we have a lot to get through. We will order some pizza for dinner around 18-19 when we get hungry - and fill up on snacks until then.
Later in the evening we would like to invite everyone to join the annual BornHack Reunion Party. The party will be from 21-late and the location will follow soon. The party is open for everyone in the community, even if you are not a volunteer or didn't participate in the 2020 kickoff.
We are looking forward to seeing everyone again!
---
Ever since we decided to move away from Bornholm we have been wanting a new permanent logo. The old logo (the outline of Bornholm) has served us well, but since we no longer have the event on Bornholm it doesn't make much sense as a logo anymore.
Black on white:
White on black:
With a Background:
Credits
We have been collecting inspiration for the new logo from the community for a while, and especially at 36c3 we got many awesome suggestions at the BornHack assembly. We are very, very grateful for all the fun and inspired suggestions.
At our assembly we had set up a place where creative minds could contribute their ideas, and among them we found the "laptop-tent" idea we decided to go with. Credit for the idea goes to Karen Melchior who drew the idea at our assembly during 36c3. Many thanks to Karen! <3
Refinement and finalisation of the logo was done by our own Thomas Flummer from BornHack orga team. We will be updating social media profiles, website, and publishing a design guide on Github later.
For now, have a few more examples of the new logo in action:
---
The BornHack 2020 Call for Participation is now open!
We are looking for talented, humorous, inspiring, and/or provocative speakers to host talks, lightning talks, and workshops at BornHack. We welcome first time speakers.
We are open to different topics. We expect that the majority of the presentations at BornHack will be on security, networking, programming, distributed systems, privacy, and how these technologies relate to society.
Please see the full Call for Participation here.
---
BornHack is at the 36th annual Chaos Communication Congress in Leipzig, Germany - 36c3!
This year we have an assembly in Hall 2 where you can visit us and meet the organisers, hear about BornHack, see our cool badges, try to beat the highscore in mini Galaga, and much more. Our assembly is easily recognisable, just across the road from C-Base: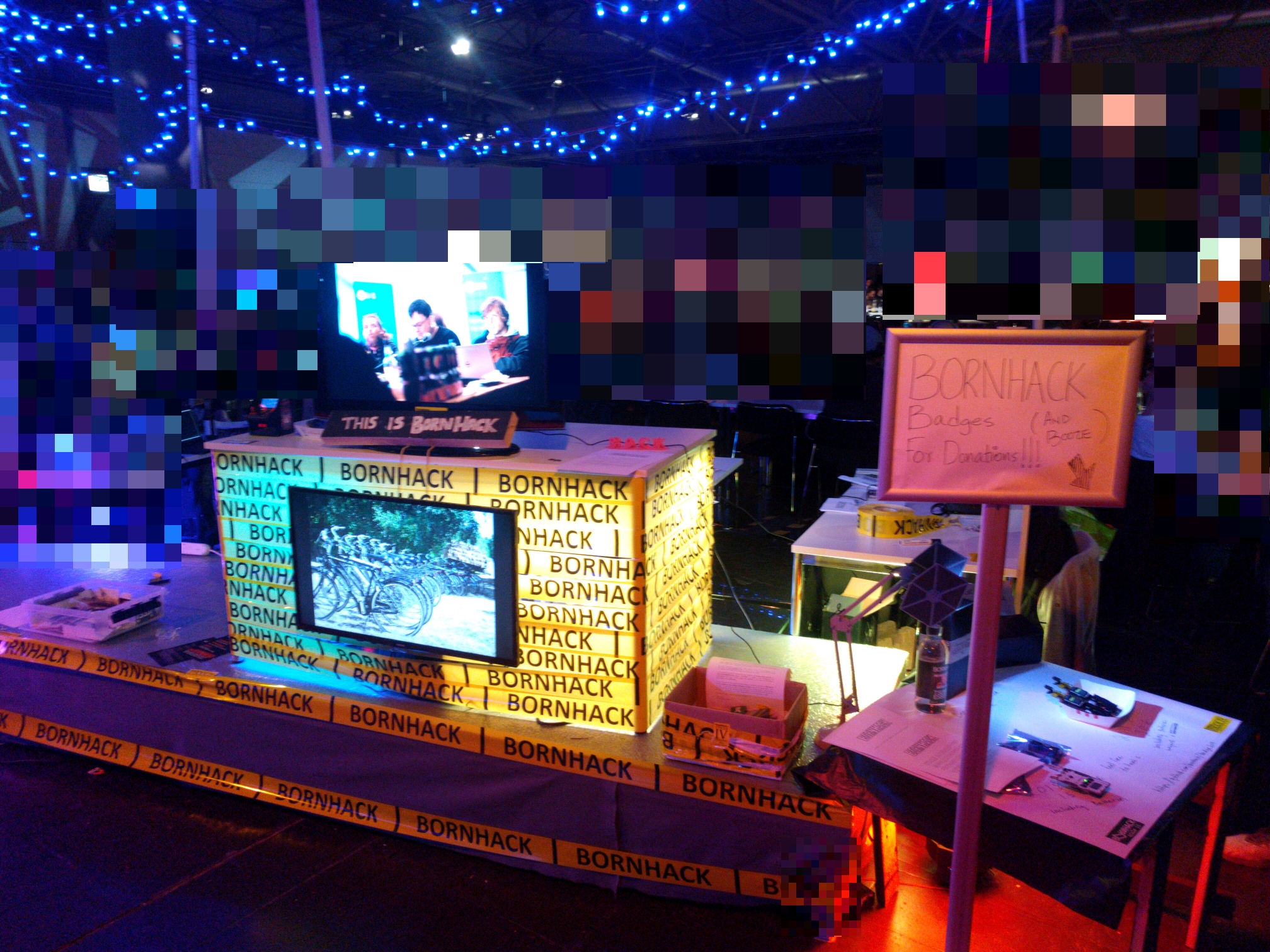 We brought a bunch of 2018 and 2019 badges and some leftover BornHack Vodka and Sevablödda which you can have for a modest donation. All donations go towards making BornHack 2020 even better!
Our assembly is reachable on DECT phone 2642 (BOHA).
BornHack Party Saturday at 23:00
We are having a BornHack reunion and meetup party at our assembly tomorrow Saturday the 28th of December 2019 from 23:00 CET. We wish to invite all former and potential BornHack participants to join us and have fun, chat about BornHack and catch up.
---
We are happy to announce that it is now possible to buy your ticket for BornHack 2020 in the webshop! This will be the fifth BornHack, for the second time at our new venue Hylkedam on Funen.
We have kept the prices at the same level as the previous years (divide prices by 7.5 to get an estimate in EUR)
Regular full week Adult Ticket is 1200,- DKK.
Child Tickets are available for 450,- DKK.
Student Tickets are 900,- DKK
Budget Ticket for 600,- DKK for hackers with tight budgets.
We also have more expensive tickets available (and remember Bitcoin payment is possible! :)) for hackers who are able to pay a bit more.
The Hacker Ticket is 1337,- DKK
Supporter Ticket is 1800,- DKK.
Finally we have Corporate Tickets available for 2500,- or 5000,- DKK if you have an employer paying the ticket.
We have the usual payment options available. We prefer Bank Transfer (but please remember to pay the fees in your end!) or Blockchain payments. You can even pay in cash if you happen to find yourself near an organiser. Finally we do accept Credit Cards, but we ask that you consider using the other options first.
Go get your tickets in the webshop now!
---
Show archived news items